Exodraft are a Danish owned company that has developed, manufactured and sold chimney fans for 60 years, and is the world leader in solutions for mechanical chimney draught and heat recovery from flue gas/ process heat.
Exodraft chimney fans are available in various sizes and capacities to meet the diverse needs ranging from private homes to large industrial plants.
Exodraft provides solutions for
Fireplaces and wood burning stoves
Gas fires
Fireplaces in restaurants, pizzerias and bars
Bakery ovens
Small oil, gas or biomass boilers
Systems with multiple boilers connected to the same chimney
Heating installations where heating for several floors is connected to the same chimney (e.g. apartments)
Our in-house technical team can help you with specifying the correct fan or heat recovery system to ensure you receive the right products for your project.
Exodraft Particle Filter
The exodraft ESP particle filter is designed to filter out hazardous and ultrafine particles from the flue gas of your wood-burning stove or fireplace. The particle filter reduces the number of particles by 95% (fine and ultrafine particles) as well as reducing the total particle mass by 70%-75%. Measurements were carried out according to the Norwegian standard NS3058 which corresponds to outside air conditions.

The electrostatic particle filter is installed on top of the chimney, where it is coldest, anduses a high-voltage electrode to charge the particles in the flue gas, causing them to collect inside the filter. Download data sheet.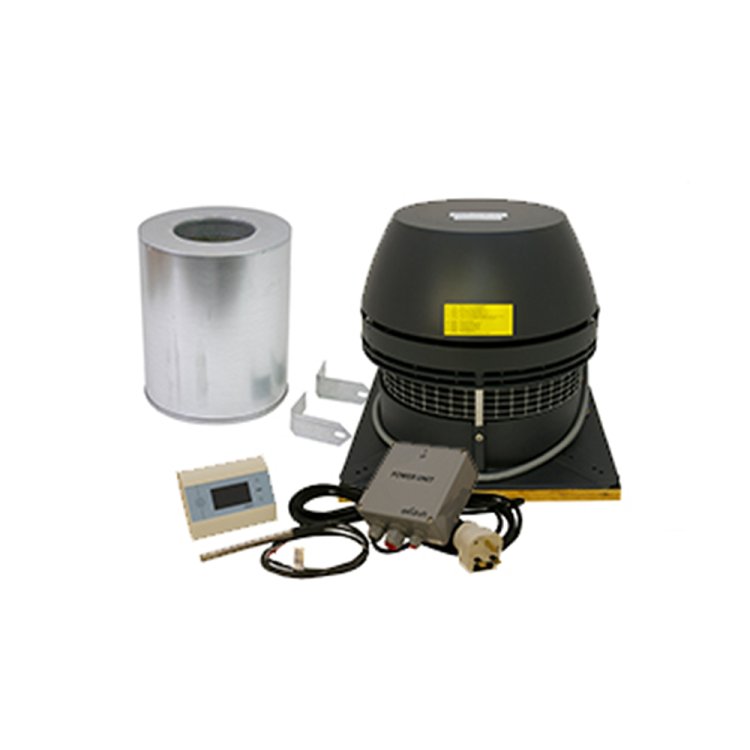 Chimney Fans
Data Sheets Accessories
Chimney Fans Data Sheets
Control Data Sheets
Other Data Sheets
Heat Recovery Data Sheets
Miscellaneous
Particle Filter