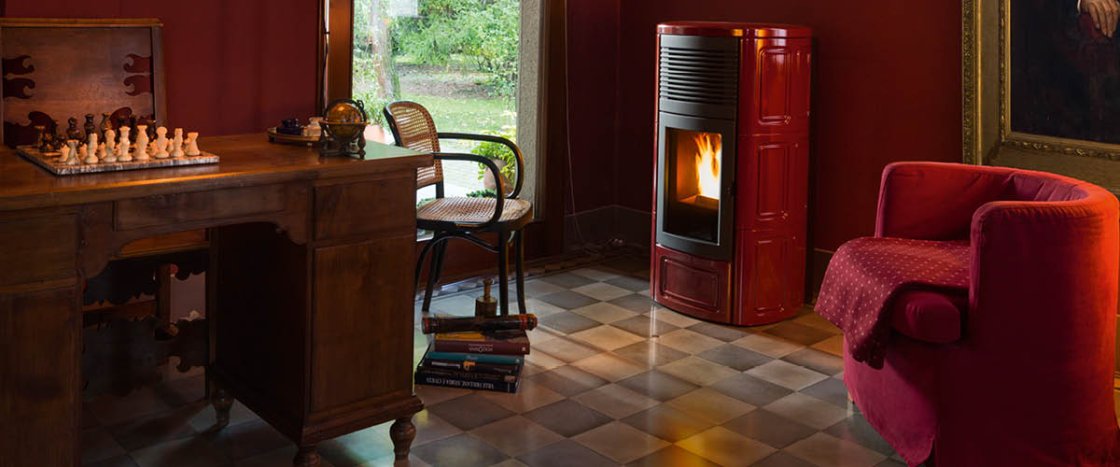 The Suite pellet stove comprises a steel structure, cast iron brazier and decorative ceramic top and side panels. The Suite is available in a wide range of configurations, to suit a variety of requirements.
The large combustion chamber offers a beautiful view of the fire, which thanks to its height, has a natural flame movement.
Thanks to its sealed structure, the Suite can draw combustion air from the outside via a direct connection, ensuring perfect thermal comfort in modern homes, with no smoke emissions in to the room.
Ecodesign Ready
A+ energy rating
590x550x1150mm
Cladding Options
Salt and pepper ceramic
Bordeaux ceramic
Old amber ceramic

Suite Air
 10kW
 90.4/92.6% efficient
 Maestro operating system
 UP! option
Suite Comfort Air
 11.9kW
 90.8/93.2% efficient
 Maestro operating system
 UP! option
Suite Comfort Air 14
 13.8kW
 90.5/93.2% efficient
 Maestro operating system
 UP! option
Suite Comfort Air Matic 14
 13.8kW
 90.5/93.2% efficient
 Maestro operating system
 Self cleaning brazier
Suite Hydromatic 16
 16.1kW
 93.6/95.6% efficient
 A++ energy rating
 Active + operating system
 Self cleaning brazier
 Control via wi-fi (kit sold separately)
 Heat output to water 12.8kW
 590x540x1160mm
Suite Hydromatic 24
 23.9kW
 92/95.6 efficient
 Active + operating system
 Self cleaning brazier
 Control via wi-fi (kit sold separately)
 Heat output to water 18.6kW
 590x540x1160mm