Thursday, 21 May 2020
Latest News
As a responsible company we take the wellbeing and safety of both our staff and customers extremely seriously. We have therefore conducted a detailed COVID 19 risk assessment in line with government requirements and made the necessary modifications to our operation to ensure those people who are working in or visiting our premises are protected.
More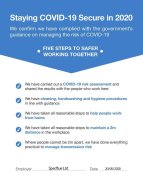 Thursday, 28 May 2020
Latest News
As we all navigate the road back to a form of normality from the unprecedented circumstances we are going through, Specflue is here to offer your business our support to help you bounce back. As part of this we are enhancing both our delivery and pre-arranged collection options.
More