February
---
Thursday, 7 February 2019
Articles
With many people adding a conservatory to their property, rather than move, there has been an increase in the questions relating to stove and flue installations within these extra rooms.
David Ebbs, from Specflue's Technical Department, offers these simple answers to the common questions.
More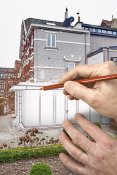 Monday, 18 February 2019
Articles
As Britain continues to appreciate the advantages of traditional wood burning stoves, Ian Sams explains how pellet stoves can offer an even more efficient alternative.
More