Our Vans Are On the Road Again
---
Thursday, 28 May 2020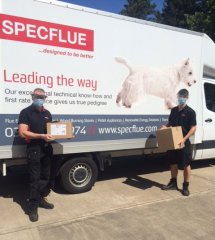 As we all navigate the road back to a form of normality from the unprecedented circumstances we are going through, Specflue is here to offer your business our support to help you bounce back. As part of this we are enhancing both our delivery and pre-arranged collection options.
Our own fleet of vans will be phased back on the road from Monday 1st June
Orders will be dispatched Monday - Friday from our Sudbury, Honiton and Castleford depots.
We will initially deliver to an area in England once a week but if you do require a delivery which doesn't fall on your area delivery day we can arrange a carrier service with an additional charge. 
Scotland and Wales will continue to be served by carrier at this time.
We have set out delivery days by postcode which you can see by clicking here. Please note Central London, Wales & Scotland will still be by carrier.
Safety of our drivers and customers is paramount so our drivers will be wearing appropriate PPE such as masks, perspex visors and gloves during the delivery.
We regret that we will no longer be able to open padlocks to gates or storage areas or enter customer premises which means all deliveries will be kerbside drops with non-contact POD's. 
We would ask that during a delivery, you allow the driver to fully unload your items before you start to handle them in order to ensure the 2 meter social distancing is maintained. 
You can collect from our Sudbury, Honiton and Castleford depots from 1st June between 08.30 and 17.00, but this must be pre-arranged with us, please call our customer service team on 0333 999 7974 to organise your collection. 
Upon arrival please follow the local procedures including driving to the designated pick up point. Your order will be brought to your vehicle and our member of staff will then move to a safe distance for you to exit your vehicle and load the equipment.

Cut off times for Delivery
Scheduled own transport:           14.00 on the day before the allocated delivery day
Next day pallet carrier:                12.00 noon
Next day parcel carrier:               14.00

We trust you can accommodate these changes and appreciate your support in keeping all involved safe. Should you wish to discuss any aspects of this please call our customer service team on 0333 999 7974 or email sales@specflue.com.
Thanks,
Team Specflue