How Does Solar Thermal Work?
Solar thermal uses a flat plate solar panel (a collector) which is fitted to the roof of a building. Inside the solar collector are coils of copper pipe, heat from the sun is transferred to the water that is slowly moving inside them.
Once the transfer fluid reaches the required temperature it is pumped to the heat exchanger in a large storage tank (known as a thermal store). The transfer fluid gives off its heat into the hot water via the heat exchanger. The hot water remains in the thermal store for domestic hot water needs.
Once the temperature of the water within the thermal store falls below a set temperature, the pump starts up and the process is repeated to heat up the water again.
Solar collectors are very efficient at converting solar radiation into heat. The ideal orientation for the solar collector is south, with a pitch of between 35° and 45° for a single array. However, in some instances this ideal 'south' orientation is not possible. In these situations, the collectors are then divided into two arrays – one on each side of the roof. This is known as 'east west' configuration and gives maximum exposure in daylight hours.
Our Collectors
Designed with a larger absorber surface area (2.040m² instead of the standard 1.827m²) enables a 12% increase in the collector battery surface area without the need to increase the number of collectors; leading to low unit heat losses and higher levels of thermal efficiency.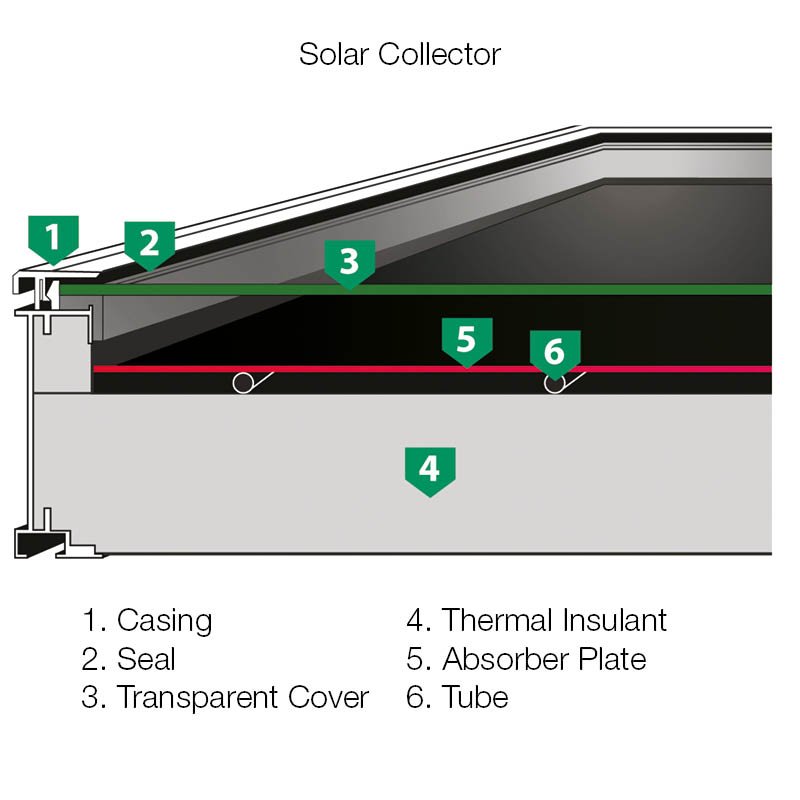 The absorber plate is made entirely of a single aluminium sheet 0.4mm thick and a parallel arrangement of copper pipes providing minimum flow resistance, reduced energy consumption by the circulation pump and rapid emptying of glycol from the pipes in case of overheating and stagnation of the collector. These are connected together using the latest laser welding methods to provide high rigidity.
The absorber plate is covered with a black chrome selective coating produced using oxides of titanium and silicon, with good selectivity properties (absorption 95%, emission 5%).
The transparent cover is made from structural glass providing high transmission to solar radiation (91.6%).
Low environmental heat losses are ensured by the use of a thermal insulant of mineral wool (55mm thick on the bottom of the housing and 20mm thick on the side walls.
Find Out More
To find out more about our range of solar thermal products, including:
Flat plate collectors
Pumps
Controllers
Expansion vessels
Flexi pipe
Air vent kits
Drain and fill kits
Roof installation and flashing kits
Contact Specflue via the online form or call 0333 999 7974 to speak to our Advanced Technical Team.