Metaloterm MF is a multi-application twin wall insulated chimney system, made of stainless steel with a high temperature sealing ring, manufactured by OnTop.
Suitable For
Atmospheric gas-fired boilers
Condensing boilers
Wood-fired stoves
Industrial ovens
Positive and negative pressure
CHP applications (viton seals may be required)
Features
Constructed from 316L stainless steel inner case and 304 stainless steel outer case.
High density mineral wool insulation.
Fast-build system without the need for sealants.
No terminal bridges; uninterrupted insulation from base plate to top stub.
Compatible with Eon-Top ME, UE and EN.
Stress free thermal expansion.
Lightweight
Available in 100 – 1000mm internal diameter (ask for availability).
Elastomer seals (must be removed if flue gas temperature will exceed 200°C).
10 year guarantee.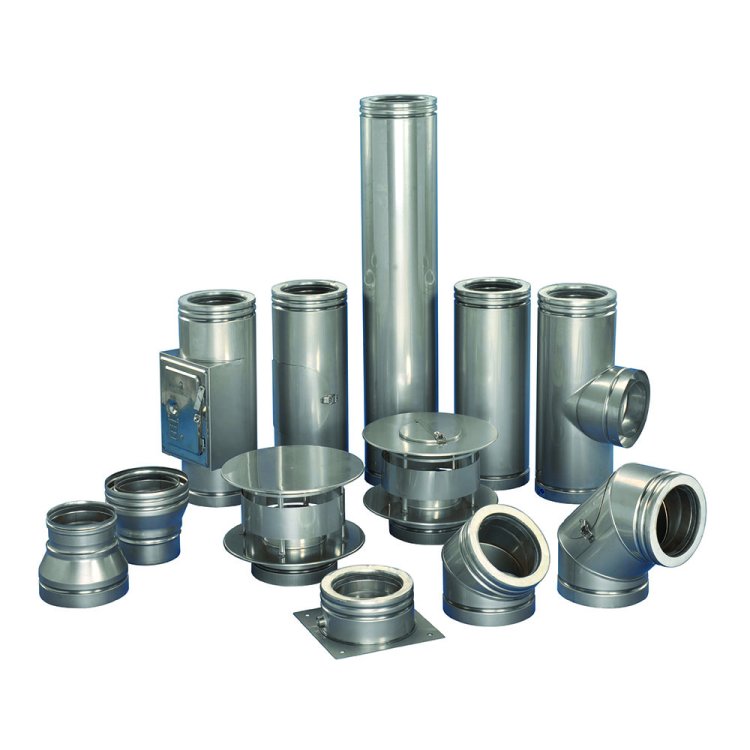 Dimensions
| | | | | | | | | | | | | | | | | |
| --- | --- | --- | --- | --- | --- | --- | --- | --- | --- | --- | --- | --- | --- | --- | --- | --- |
| Internal Dia. (mm) | 100 | 130 | 150 | 180 | 200 | 250 | 300 | 350 | 400 | 450 | 500 | 600 | 700 | 800 | 900 | 1000 |
| External Dia. (mm) | 150 | 180 | 200 | 230 | 250 | 300 | 350 | 400 | 450 | 525 | 575 | 675 | 800 | 900 | 1000 | 1100 |
Approvals
CE certified to EN 1856-1 with designations:

T200 P1 W V2 L50040 010
T200 H1 W V2 L50040 010
T450 N1 W V2 L50040 040
T450 N1 D V3 L50040 G50
T600 N1 D V3 L50040 G70

CE certified to EN 1856-2 with designations:

T200 P1 W V2 L50040 010
T200 H1 W V2 L50040 010
T450 N1 W V2 L50040 040
T450 N1 D V3 L50040 G70
T600 N1 D V3 L50040 G70