Specflue and Wiltons launch trade counter!
---
Tuesday, 15 June 2021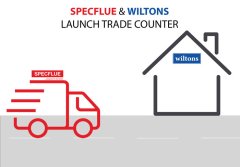 Leading chimney and stove supplier Specflue are proud to announce its partnership with Croydon-based Wiltons IFC. The collaboration with Wiltons, who are a well-established industrial flue, chimney and thermal insulation contractor, will add a full trade counter and distribution network dedicated to serving the London, Surrey and Sussex areas.
Operating from Wiltons' warehouse in Hawker Road, Croydon and only 15 minutes from the M25, the trade counter will be open from 7am to 5pm every weekday and will stock our extensive range of single and twin wall flue systems in diameters of 100mm, 125mm, 150mm, 175mm and 200mm diameter. It will also include flexible liners, ancillary products, Metaloterm MF and ME.
This strategic partnership gives Specflue unrivalled coverage in London and Surrey, offering installers more flexibility and allowing them to work more efficiently. Wiltons has also teamed up with a major courier company in the UK to offer overnight delivery services either from Croydon or from Specflue's Sudbury depot, where over 6,000 items are maintained in stock at all times.
Specflue's Commercial Director Ian Sams said "Specflue and Wiltons share similar ethos and brand synergy – we both pride ourselves on our level of customer service and reputation in the industry whilst boasting strong heritage. This partnership gives Specflue increased reach into the London area offering installers a choice of collection points and thereby allowing them to reduce time spent travelling".
Customers requiring additional product or support can contact Wiltons' technical and contracts department, the team routinely undertake site surveys and fabricate special orders as required.
Michael Murphy, Managing Director of Wiltons, said "This is a great opportunity for Wiltons to service local installers in the London area from our base in Croydon. Forming an association with a company like Specflue was a natural choice to deliver this service and we look forward to welcoming customers to our trade counter in Hawker Road".
You can call Wiltons on 0208 669 3029.