Be Winter Ready
---
Monday, 10 October 2022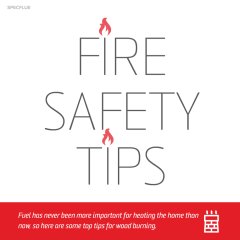 Be Winter Ready
As the temperature drops and customers are considering lighting their stoves for the first time in months, remember a few safety tips...
- Checking the CO alarm works by pushing the test button, also give it a vacuum to remove any dust
- A visual check of the flue or chimney should be done before lighting the stove for the first time in months. Check the chimney pot has not cracked, and that rain and bird guards have not fallen
- A stove or open fire should be swept at least annually or more frequently depending upon the fuel burnt. Customers should keep the certificates for their flue warranty and household insurance purposes
- Help your customers choose the right type of fuel for their appliance. A wood thermometer will ensure fuel is being burnt at the correct temperature. Use Woodsure to buy certified wood fuel www.woodsure.co.uk. All solid fuels should be HETAS approved
- Choose a Stove Industry Alliance (SIA) approved Ecodesign 2022 stove, to ensure optimum efficiency and minimal emissions. Visit the HETAS website to find a list of approved stoves
- Choose products that have long warranty periods to give your customer peace of mind and cover your back should anything go wrong. We supply Schiedel liners (Technoflex Plus & ICID Plus) which come with a lifetime warranty
- Make sure you've got everything you need to do the job. We offer flue packs which ensure you have all the fixings required in one place, including pipe connections, adaptors and chimney cowls
- Cheap cost per metre deals might seem like the best option when choosing a flue, but this approach may cost more in the long run. A quality product with a long warranty will be easier to install and require little maintenance, reducing costs overall
- If you have moved into a different property since last winter, always have the stove/open fire and flue checked before you use
- Check your fuel store is providing sufficient cover to keep your fuel dry. A hand-held moisture meter can test wood – never use wood with a moisture level above 20%
If anything does not work how you expect, or as it did last winter, shut down the appliance vents and call your industry-approved service engineer.