What are the benefits of pellet stoves?
---
Tuesday, 21 January 2020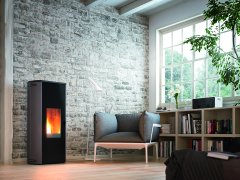 Heading into a new decade, sustainability is more important than ever before as we become more conscious of our impact on the environment and the negative effect of climate change on the future of our planet. Specflue's pellet burning stoves offer an efficient and environmentally sensitive alternative to wood burning.
Traditional wood burning stoves have a whole array of benefits: they use a fuel source that is renewable and can reduce your heating bills. In addition, all our wood burners at Specflue are Ecodesign ready and compliant with the Government's clean air strategy - so why would you consider an alternative? For a start, the most effective pellet stoves can be up to 90% more efficient than the average wood burner. This is because they burn pellets that contain a mixture of sawdust, bark, and other biodegradable materials, and the level of airborne particulates that they produce is relatively low.
Just like a gas boiler, you can switch pellet burners on and off on demand and get an instant source of heat. The burner can be modulated according to your requirements, allowing you to get the most control out of your appliance.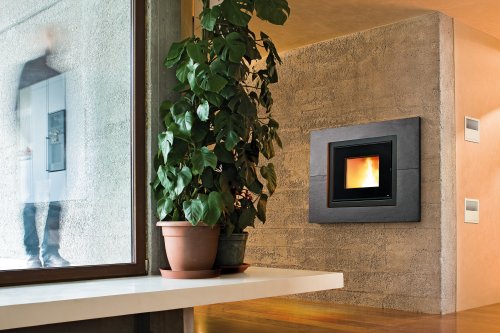 How do pellet stoves work?
Simply put, pellet stoves burn compressed wood or biomass pellets to create a source of heat. By slowly feeding fuel automatically from the storage container (the hopper) into the burn tray, a constant flame is created and monitored to ensure maximum efficiency. The built-in hopper allows pellet burners to operate autonomously for about 12 hours under full load.
One of the key benefits of pellet stoves is their ease of use. Automatic ignition means that you can be sure your pellet burner will only start burning when it is needed, saving you a lot of money in the long run. They produce very small amounts of ash and chimney creosote, which reduces the number of times that your chimney needs a major clean – although an annual chimney sweep is ideal.
In terms of fuelling your pellet stove, pellets are convenient and comparatively cheap when put up against other fuel sources. This is in addition to there being little fluctuation in the cost of pellets, meaning that you won't pay more now than you would have done a few years ago.
Pellet burners from Specflue
Specflue's range of MCZ and RED pellet burners are available in a variety of colours, finishes and styles, meaning that you can select the perfect model to suit the décor of your home. With the wide range of choice stocked by Specflue, you can choose a statement piece as a focal point for a room, or if you're limited for space, pellet burners are compact and can fit in a convenient spot. They are fully programmable and therefore extremely flexible – controllable from your smartphone, you can choose to heat the room you're in, or extend that heat to the entire house.
For today's environmentally conscious homeowner, lover of natural heat, style-conscious interior enthusiast or gadget fan, pellet burners are the future of wood burning, available today.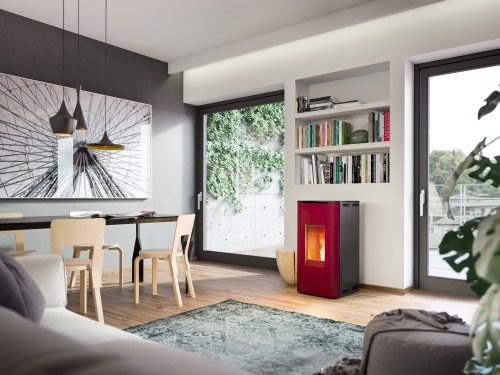 What are the advantages of pellet appliances?
• Fuel typically only needs to be replenished once a day, as opposed to appliances fuelled by wood, which need a more regular top-up every few hours.
• Pellets are a cost-effective source of fuel.
• Pellets can be bought from local suppliers and are renewable, helping the environment through the reduced need for transport, and contributing to security of supply.
• Compared to fossil fuels, pellets release much lower emissions.
• Pellet stoves are highly efficient, with an average efficiency of 91%. This is due to the even distribution of heat by an extractor.
• Using your smartphone, you can precisely control the way in which heat is distributed in your home.
Watch the video below for a comparison of the heat generated by a wood burner and a pellet burner with the same amount of fuel: