Glamping Top Tips - Staying Safe While Keeping Warm
---
Tuesday, 29 May 2018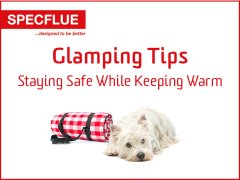 10 safe stove installation tips for installers
As glamping (glamorous camping) grows in popularity, so the business opportunities for installers increase. Indeed, glamping offers a potential work bonanza to installers of wood burning stoves bold enough to invest time and effort in this relatively new type of holiday experience.
The guide offers you, as an installer, guidance on specifying and fitting the right wood burning stove for the job and includes a case study illustrating a practical real-life example of heating in a glamping application as well as a comprehensive list of useful website addresses. It also offers advice for safe stove installation. Here are 10 tips on safety:
The relevant legislation relating to stove installation is outlined in Approved Document J of the Building Regulations – Combustion appliances and fuel storage systems (https://bit.ly/2gbGi5r). This specifies that fitting a new stove or chimney comes under building control.
Any appliance rated at 5kW or above must have ventilation into the room, which can't be shut off.
The stove itself needs to be placed on a flat, hard surface such as a large tile or piece of slate to keep it steady.
The appliance must be sited on a hearth, which needs to extend at least 230mm in front of the stove.
If the accommodation is a 'hard' structure such as a log cabin or pod, a carbon monoxide alarm must be placed into it in accordance with the manufacturer's instructions regarding the distances from the stove, although it is best practice to have an alarm for all installations regardless of the structure. Advise the glamping site owner to test it weekly.
Combustible materials other than the tent structure itself must also be considered, such as front distances to a sofa, and so on. And curtains and drapes must be prevented from blowing into this 'keep clear' zone.
Flame retardant matting should be fitted as a secondary measure to protect the groundsheet from stray embers. And ensure all labels are removed from the stove and flue kit components before use.
Flue pipes must have at least the same diameter or equivalent cross sectional area as the flue outlet on the appliance and should not be smaller than the size recommended by the appliance manufacturer.
Blackened glass is an indication that the appliance is not being used correctly, and should be investigated to discover why this is occurring.
As well as choosing the right product, selecting the right supplier also plays a large part in a successful stove installation with its after-sales support and delivery performance important selection criteria. Specflue offers offer unrivalled experience and knowledge of the market, ensuring you can be confident of receiving the most appropriate and accurate advice.
To download the PDF click here
10 safe stove installation tips for consumers
Those who consider themselves 'to posh to pitch' are opting for a new way of camping that involves less effort and greater extravagance. Indeed, a revolution is taking place in the camping sector as the popularity of glamping (luxury camping) rises at a spectacular rate.
Although wood burning stoves offer a comfortable, convenient solution, there are a number of precautions that you, as a glamping customer, need to take in order to use a stove safely. These include:
Ensure you have a copy of the manufacturer's instruction manual so that you can refer to it for use and safety information.
Always use the right fuel for the appliance – as recommended by the manufacturer.
Keep all combustibles, including logs, at a safe distance from the stove.
Make sure air ventilation grilles/flues remain unblocked.
Don't keep the wood burner working at night.
Securely fit a fireguard to protect children and pets.
Ensure the audible carbon monoxide (CO) monitor works.
Early symptoms of CO poisoning include headaches, collapse, breathlessness, nausea, drowsiness, chest and stomach pains and erratic behaviour. If you feel unwell, consult a medical professional immediately.
Ensure that the stove has an up-to-date service certificate.
Only a competent person with Hetas-approval and appropriate qualifications should install and service the appliance and flue
Wood burners have a host of both environmental and practical benefits when it comes to glamping applications. For example, a modern stove will reduce emissions by 90% compared with an open fire and by 84% compared with a stove manufactured 10 years or more ago.
Furthermore, complementing the 'back-to-nature' ambience of a glamping holiday, wood logs are a renewable fuel provided they are bought from a reputable supplier who sources from well managed woodland. And burning wood is pretty much carbon neutral.